This post is a record of excellent timing.
I'd spent Saturday, May 19, at The Gaithersburg Book Festival with Jenny Lawson, where she was appearing as part of the second leg of the Let's Pretend this Never Happened book tour.  Police escorts, hilarity and what was probably the longest signing line ever seen there, ensued. I missed out on the signing because I had a birthday party to go to. In the end, the timing was wonderful.
I literally left the reading, drove home, got ready in 5 minutes and then we were on our way to the Metro. The party was held at a restaurant in the District. The birthday boy is a former CNNer and various people who still work at the Washington Bureau attended, including Wolf Blitzer.
After verifying with friends that it wouldn't offend Wolf if I asked for an autograph, I waited until he came to talk to my husband, who had been a CNNer for 25 years.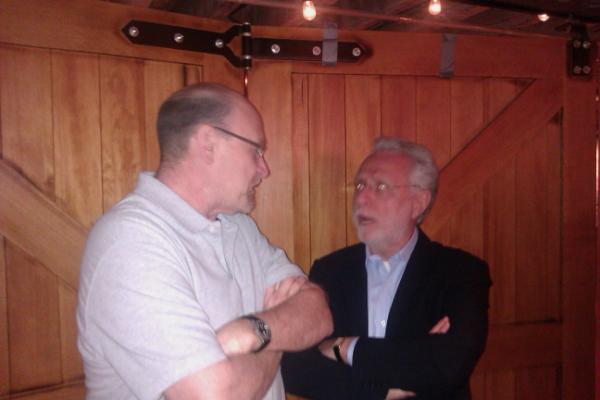 Once Steve and Wolf got greetings out of the way, I began my request "Wolf, this is gonna seem kinda strange but I've followed a blogger for years and she wrote a book and will be doing a reading tomorrow in Annapolis that I'm going to. She's a big fan of yours and I was wondering if I could get an autograph for her. Her book debuted at #1 on the NYT Best Seller's list." "Oh? Fiction?" "No, non fiction." "What's it called?" "Let's Pretend This Never Happened."
Fortunately, I always keep a small marbled composition notebook and sharpie in my bag. Once we got home, I found a 3″ x 5″ frame for the autograph. I brought it with me on Sunday (along with Ron Weasel-y's scarf) to give to Jenny.
The Annapolis reading will need to be a whole 'nother post because that Barnes & Noble completely got the Bloggess.